Your choice of roof materials is important because it will affect your new roof's life span, durability, performance, and appearance. The Roof Doctor, the leading roofer in our area, recommends doing your research about the features and benefits of various materials. To help you make your decision, we will explain the various factors that you need to consider: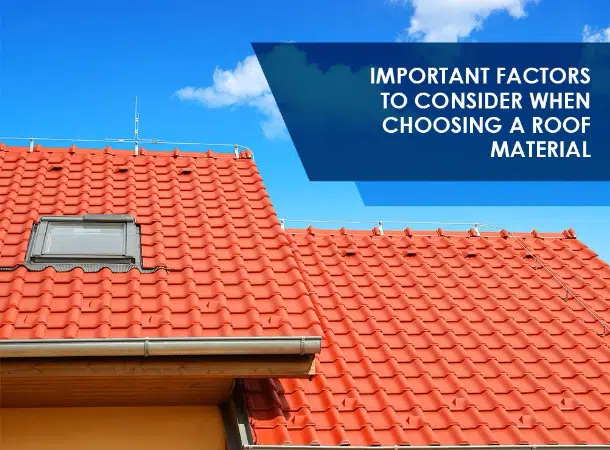 Longevity – Different roof materials have different life spans, so you need to choose one that will best meet your goals. You need to ask yourself if you plan on selling your home relatively soon or if you plan on staying. If the latter, then you need to consider long-lasting roofing materials like metal, slate, and tile. These materials have a higher installation cost compared with other alternatives, but they last for many decades.
Your Home's Style – Your roof is one of the biggest elements of your home's exterior, so you need to choose a material that matches its architectural style. For example, modern homes will look distinct and striking with metal roofs while traditional homes need classic materials like slate or wood shake. As an experienced roofing company, we recommend asphalt shingles in particular because they are versatile enough to look fantastic on any home style.
Energy Efficiency – Your roof can help save you money on energy bills by keeping your attic cool. Certain roof materials like metal and asphalt shingles can reflect the sun's heat away from your home. With a cool roof, your utility systems won't need to work as hard to keep your home cool and comfortable. This can have a significant effect on your bills. You can learn more about cool roofing through research or by asking us for details.
Feel free to call us if you need more help with deciding which materials to choose for your new roof. The Roof Doctor is the top choice for local roof replacement because of our many years of experience, first-class products, and our award-winning service. We have also earned the GAF Master Elite™ certification, making us one of the top 3% of all roofing companies in the country. We serve many areas in UT including West Valley City. Call us at (801) 512-3614 to learn more about choosing a roof material. You can also ask for a free estimate.